Important things to consider before getting a New Pet
Important things to consider before getting a New Pet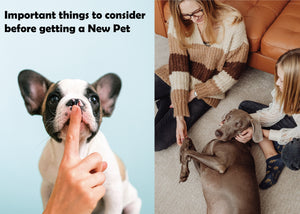 The aging lifespan of dogs varies according to their adult size (often determined by their breed).
Pets are considered family members by many people and having a pet means taking care of it for the rest of your life. It is the responsibility of the owner to take care of everything, such as daily eating, walking, excrement disposal, discipline, safety management, and disease prevention.

While owning a pet is rewarding and a wonderful thing, be mindful that pet ownership is also a huge responsibility. It's something you'll spend the next 10-plus years either being happy about or regretting. Here are some important things to gather and consider the information before getting a pet.

The Ten Commandments of Dog Ownership
The fundamental idea behind "The 10 Commandments of Dog Ownership" is to encourage dog owners to understand and follow the guidelines for responsible pet parenting. Focuses on the relationship between a dog and owner as described from the viewpoint of a dog. Commitment, patience, kindness, and understanding are persistent themes throughout and serve to remind dog owners.


My life is likely to last 10-15 years. Any separation from you will be very hard and painful for me. Remember that before you get (or adopt) me.

Give me time to understand what you want from me. Do not be impatient, short-tempered, or irritable. Please be patient with me.

Place your trust in me- it is crucial to my Well-being.

Do not be angry with me for long, and do not lock me up as punishment. You have your work, your friends and your entertainment, but I only have you.

Talk to me sometimes, even if I do not understand your words, I understand your voice and your tone when it is speaking to me. You only have to look at my tail.

Be aware that however you treat me, I will never forget it.

Remember before you hit me that I have teeth that can bite and scratch, but I choose not to bite you.

Before you scold me for being lazy or uncooperative, ask yourself if something might be bothering me. Perhaps I am in pain or sick, or my heart might be getting old and weak, and I cannot tell you.

Take care of me when I get old. You too will grow old and may also need love, care, comfort, and attention.

Go with me on difficult journeys. Never say, 'I can't bear to watch' or 'Let it happen in my absence.' Everything is easier for me if you are there. Remember, regardless of what you do, I will always love you.
© The "10 Commandments of Dog Ownership" is an equally classic adage for pet owners. Scripted in 1993 by UK-based dog trainer Stan Rawlinson, aka "The Original Dog Listener," this endearing checklist details ten simple truisms from the family dog's perspective. You can visit his website and articles at https://www.doglistener.co.uk