Giveaway winner announcement
Giveaway winner announcement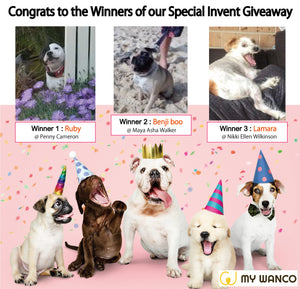 Congrats to the Winners of our Special Invent Giveaway🎊
First, we'd like to thank all who entered into the contest and helped spread the word about our website. It's amazing people like you who keep small businesses going 😊
And the winners are;
Prize winner 1 : Rudy
Prize winner 2 : Benji boo
Prize winner 3 : Lamara
◆ Award : One free item of your choice from MY WANCO's WEB.
* Get a Free Gift of One Item of your choice under $79.00.
* Half price discount will be applied to items priced at over $79.00.
* Please choose other products if out of stock.
* Special discounts will be offered to all participants except the winner.
  ⇒ Free shipping on all purchases of over $39.00.
* Only the full price applies.
📣Winners please Facebook message us or email us at info@mywanco.com
The winners were chosen by random selection.
① Please give us the product name, size and colors.
② We will send you a special code after confirming your order.
* Application deadline: 30 October 2021
* Please note that notification after 30 October 2021 will invalidate the prize.

Stay tuned to our Facebook page for more upcoming contests and don't forget to shop mywanco.com.
Note : Please agree and understand that the photos you post and your name (including your Face book name)  will be used on the MY WANCO website and SNS such as Facebook and Instagram.